As is the case with most things in life, brochures and catalogues can come in a huge range of different shapes and sizes.
The printing industry has a number of standard sizes which will suit most printing presses
The standard sizes are A6, A5, A4, A3 and B5 (240x170mm)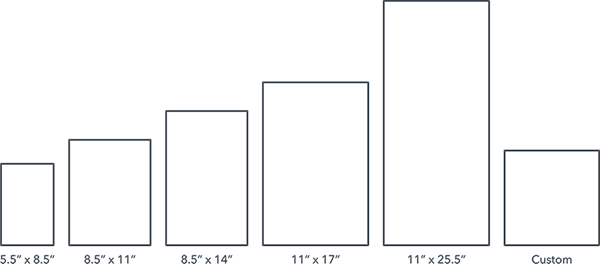 It is far more cost effective to print on standard sized paper, as it can reduce the amount of paper wastage.
If you chose to print a brochure which is outside of the standard sizing guidelines, it is important to choose a press that can minimize the waste involved.
If you intend to produce a large number of catalogues or brochures and you require a custom size, your printer can look at other options. It might be possible for to order from a papermill in a specified size to find a way to reduce any potential paper wastage, this usally adds 4-5 weeks to your project.
It is important to ask the printing company for advice on this as they might be able to suggest a suitable size.
There can be quite generous savings on this.
In general the most popular size used for catalogues and brochures is A5, B5 and A4. This size is chosen as they are then suitable for mail purposes. They are also more cost effective in terms of weight and the impact that weight can have on postage costs.
It is important to consider these factors when choosing a size.