If you are looking to mass produce catalogues or brochures then it is well worth considering using  a web offset printing machine. However this will depend on the amount of pages and the required finish.
As a general rule we would suggest using a web offset printer when the quantity is over 20,000. For orders of volume between 1000 and 20,000, it would usually be more cost effective to produce on a traditional B1 sheetfed lithographic press.
The B2 offset printing press is more suited to lower print volumes and less pages.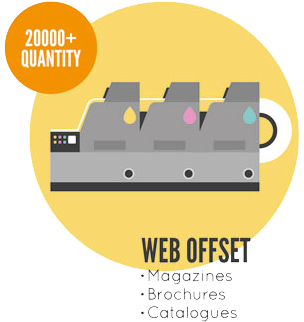 What is the difference between web offset and sheet fed offset printing?
If you have little knowledge within the printing industry then it can be quite overwhelming to work out  which different machine you should print your catalogue or brochure on. In the UK  there are not many web offset printing companies due to the rise in digital media, print runs tend to be shorter now.
The main difference between web offset and sheetfed is the method in which the paper is fed into the printing press. On a sheetfed printing press the paper is inserted into the press as cut sheets and moves along the press as single sheets, however with the web offset press the paper is fed into the printing press as a continuous sheet, which can even be folded and cut inline on the same machine, this process is much faster than the sheetfed process.
Benefits of sheet fed offset printing
One of the main benefits when printing on a sheetfed offset printing press is the control that you have over the quality. As the press runs a lot slower than the web offset printing press  you are able to have more control over colour. It also means that you can print on heavier weight and specialist papers.
Benefits of web offset printing
When it comes to large volume catalogue and brochure printing the main benefit has to be down to costings. It is  much more cost effective to print using a web offset press when the quantity is large (we tend to use 20,000 as the benchmark quantity). This is due to the production speed and having the options to also fold and finish inline it makes the process very fast as well.